The NightBlinders are a five piece rock band from New England
who play original folk rock music.
Vocals, Guitar / Mike Graton
Fiddle / Cameron Mason Smith Rapoport
Bass / Rich Caron
Electric Guitar / Mark Williams
Percussion / Lee sevigny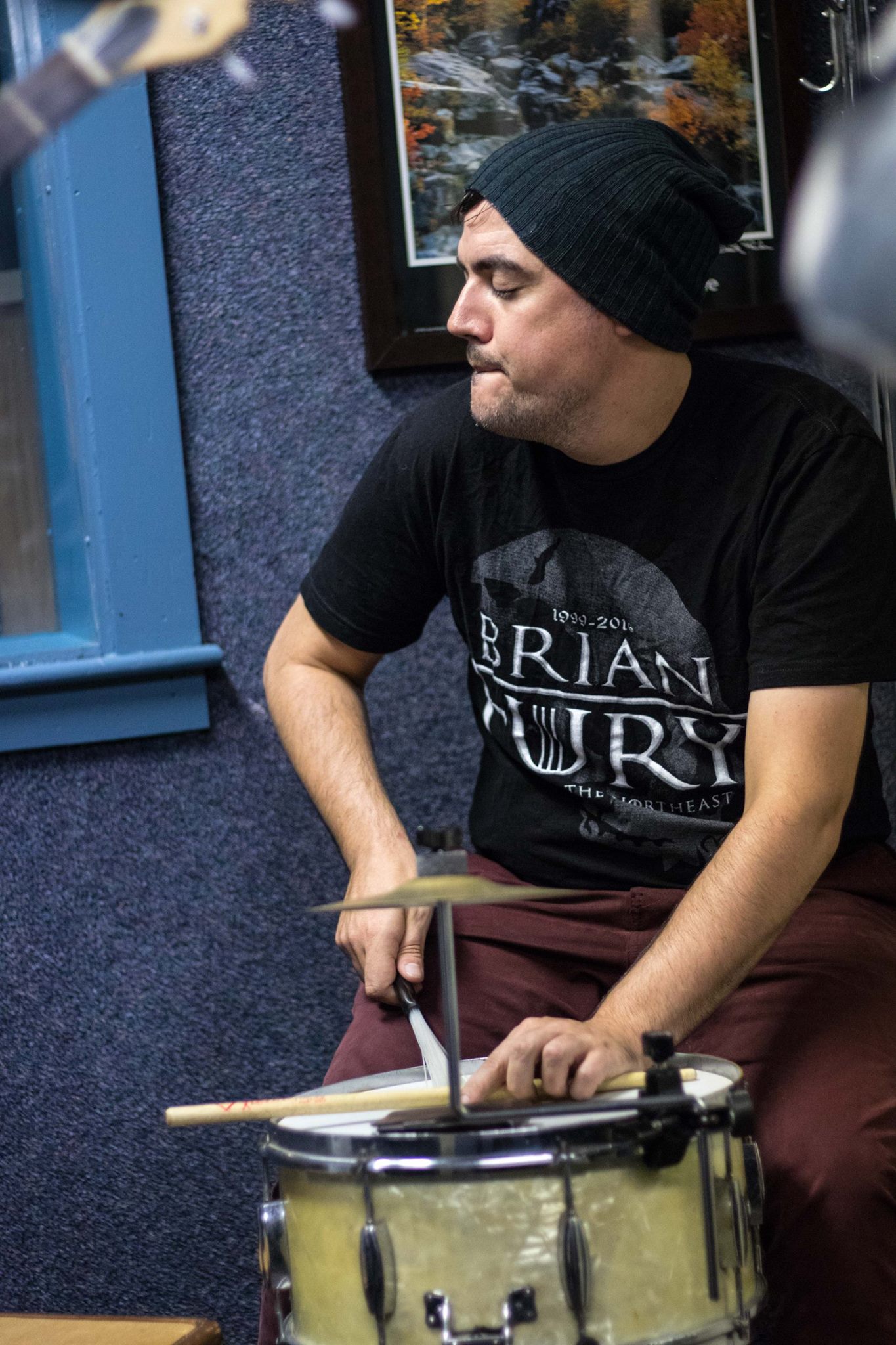 Albums
by
Miketon & The NightBlinders
Building A Home was recorded live in a wooden room at Black Heart Sound in Manchester,NH.
Miketon & The NightBlinders is 5 piece a acoustic band that plays a blend of folk,rock, alt country and everything inbetween. We have been together since august 2015. We are currently spending the winter of 2016 writing new material and playing shows in New England.
Miketon & The NightBlinders

Miketon & The NightBlinders

Miketon & The NightBlinders

Miketon & The NightBlinders

Miketon & The NightBlinders

Miketon & The NightBlinders

Miketon & The Nightblinders

Miketon & The NIghtBlinders

Miketon and The NightBlinders

Miketon & The NightBlinders
What do you think?
The following is a place for you to tell us what you think about the music we play. Review a live show! Review a record of ours! Send it to us and we will post it! You don't need to be a writer to submit! Although the idea came to me when our friend Ryan who is a poet,teacher, and a writer sent us a wonderful review! You don't have to be for us to post it!
REVIEWS
Miketon & The Nightblinders - "The Guiding Light"
Review by Ryan McLellan
When I got the chance to preview this record, after months of brutally teasing social media
posts and much personal anticipation, it was like getting told the secret knock for a private
clubhouse, or like a buddy had just given me a smack in the face to help me sober up before
I had to drive home. I hit play like I was about to open the door to a barroom full of pals
who'd already had a few rounds and were bound to spot me and start hollering as soon as
they saw me. This record is full of feelings like that: a (maybe drunken) search in the dark
for a doorknob or a missing set of car keys, here, a photo album with a few torn out pages,
there, and small rooms full of the people who are really fuckin' excited you came to hang
out for a while.
"Flaming Rocks" (3:39), the opening track, begins with a few quick chords from Miketon on
his acoustic, a fitting beginning, but a new tone is set once the rest of The Nightblinders
kick into gear. Maybe it's the first note on Mark's electric (no more banjo, folks!), the power
behind Lee's drum kit, or Mike's switch to electric bass (bye bye, upright!) giving the
rhythm section something extra...Whatever grabs you, there's a distinct rush of energy and,
by the 2-minute mark, it's obvious that we're in for a different kind of ride this time around.
"Assisted Living" (3:17) begins with a painful verse about loss and some haunting notes
from Cam's fiddle, a powerful presence throughout the record, but as soon as the band
kicks into gear one can't help but picture a bunch of couples leading one another, most by
the hand and maybe a few by beltbuckles, toward the dancefloor, hips swaying and shoes
moving. The lyrics are an honest journey through loss and memory and there is a powerful
blend of grief and joy that helps the listener along on this rollercoaster of mourning.
"Bit Player" (4:08) begins with Mike's electric guitar and a well-placed opening fiddle solo,
and is a lyrical meditation on personas and the masks we wear. Lee's drums are the engine
driving a train that moves the narrative along and Mike's bass is a steady chugging
presence as we take a look behind the curtain. Though the speaker of the song "finally
[sees] through 4th wall" to a "person wearing a mask that's poorly crafted", we can't help
but see some of the characters we've played along the way, or the roles we've tried to
convince others to play for us.
"Carnosaur" (4:40) opens with a little high-hat
and picking on the acoustic, sounding like we just happened to walk into the room at the
right time and catch them at an unexpected gig. It's a song about looking back, reflecting on
who we were, and wishing we could cut out certain pages from the memoir. Mark's solo
adds another level and almost feels like a sound from a different decade, maybe the one in
which we wrote that letter to ourselves, hoping we'd find it when we needed it most.
"Better Man" (6:56) is longer and slower than many of the other songs on the record but
the storytelling lyrics make time pass quickly and leaves you wishing the tale wasn't over at
the end. We've all had moments when we knew things had changed and wouldn't be the
same again, and this song is about those moments; when we say - as Miketon does - "wake
me up, this aint real", but we know it is. The lyrics muse on what it feels like "when hope
turns to dirt and slips through" but reminds us - right around the middle of the song, right
when things look grim - that there's always a reason to hope.
"Knocked Down" (3:35) begins with Lee on the drums and it had me feeling like I was about
to throw open the drapes and walk to a wrestling ring. It's a song about love, making a
home that's your own (even if it's got some cracks in the foundation or drafty windows),
and not getting bogged down in normalcy. The lyric, "while everyone's waiting for lady luck
to call / you're dancing toward the edge you don't care if you fall / they hide behind the
their fence / and you, you're just knocking it down" made me want to disrupt a fancy
dinner party and the distortion is turned up a bit on this track, which fits the speed and
rock & roll tone of the tune.
"Foolhardy" (3:13) starts with a riff that immediately made me think of The Bouncing
Souls, so I was ready to sing along by the time the rhythm section kicked in. Cam's fiddle
drives the hook of the chorus and then settles nicely into the background throughout the
verses. Fear, it seems, brought out some of the lyrics but the word is nearly redefined by
the end of the song. In a world that demands good behavior, sometimes we have to be
reckless and brash, sometimes we need to look in the mirror for the support system we
need, and sometimes we need to find the strength to do it ourselves.
"Dance of the Night" (2:31) invites you back onto the floor with a quick pause and a twirl, a
smirk and a nod. It's the first track on the record that I clearly heard and noticed one of my
favorite aspects of this band: Miketon and Mark's harmonies, and it's a pleasant addition to
the hook and chorus. It's a springtime song full of yearning with a touch of apocalyptic
imagery; makes you wonder if that's why we couldn't go outside. It's a beck and call to
enjoy what could be our last chance and I couldn't help but picture the band beneath some
decrepit revival tent, hopping around on a dusty clapboard stage, welcoming in all the lost
souls. I hope with all my heart that I find that tent when it all goes to hell.
"Safety Drills" (3:30) immediately drops us into our childhoods and what begins with light-
hearted and innocent memories quickly becomes a frightening reality full of adult fears and
warnings. It's a reminder that, though the grown-ups might have scared the shit out of us
kids by saying how hard the real world can be, they weren't lying. The electric guitar fills
out the opening riffs with a familiar tone and, for me, this was the track where it became
completely clear that Mark's decision to drop the banjo adds a versatile element to this
band that was lacking before.
"Nights Right" (2:52) is a "maybe-just-a-little-bit" drunk love song full of all the best and
worst parts of a night of imbibing. Uninhibited lust and adulation, flattery and flirtation,
followed by a morning with some regrets, some sickness, and missing clips from the film of
the night before. There's a breakdown around the one-minute thirty-second mark that's
pop-punky and fun, and lyrically we're told that sometimes the only thing you should strive
for is being alive. No matter how many times we might say we're "never doing this again",
sometimes a slurred-word conversation with someone we love, even if we regret it the next
morning, helps us through.
"The Guiding Light" (4:08), the title and final track on the record, begins exactly how I
hoped it would: the whole band, all at once, blasting into this song full of love and pain, a
group of pals coming together to ward off the dark thoughts that wake us up in the middle
of the night. There are some missing memories ("too young to remember the first time /
you hauled me onto your shoulders") and some excruciating truths ("she said it's pay-to-
play with the child that you raised") in the lyrics, but what I appreciate the most about the
finale of this record is the belief that, even if we've said "I love you" to someone a thousand
times, we should still say it every night, for as long as we can.
You can feel the growth in this record. You can feel the work that went into it. You can feel
the sun shining through the dark parts. You can feel all this, yourself, by buying and
listening to this record as soon as you can. See that light through the fog? That's the life you
should be living, and Miketon & The Nightblinders will help guide you to where you want to
be.